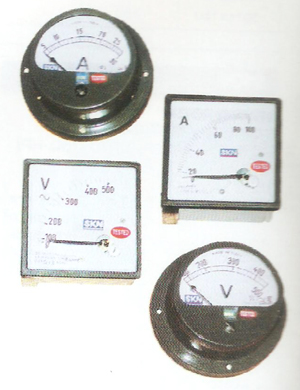 CONSTRUCTION :
All the instruments are manufactured from the best quality material to give satisfactory performance over a large period. All parts / sub-assemblies are thoroughly inspected at all stages with utmost care.These meters are supplied with white dials and black scaling in order to have easy legibility. The size of stamping is also adequate enough to be read from a reasonable distance.The movement is light in weight and is effectively secured between two sapphire jewel bearings. The precisely ground pivots minimize the friction and sustain occurrence in rigorous field conditions. The effective air damping provides an uniformly controlled torque and brings the indicating pointer to its final deflection position without much oscillation. All the parts are adequately plated to make the instrument tropical. Instruments are effectively shielded against the effects of external magnetic and electrostatic influences.
All the instruments have a zero resetting device in the front.
CALIBRATION :
The quality control and inspection at every stage of manufacture enable the meters to pass the "Time Test" The quality staff and the expert supervisors calibrate each and every instrument for finest accuracy.
RANGE :
These meters are in square flush type or in round flush, projection or pedestal type.