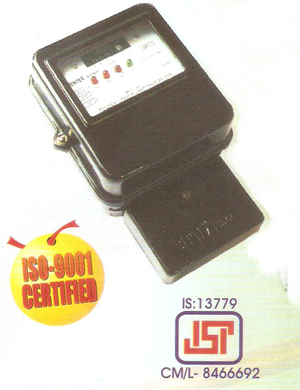 Meter is designed as per IS:13779 & IEC 1 D3B
Static meter is based on world's latest ASIC.
Meter is fully based on Digital Technology to improve accuracy over a wide range and to obtain stable results in all climatic conditions.
Static Meters are of Class -1.0 accuracy over a dynamic range of 500
Over load capacity is 200% of Imax. with accuracy Class 1.0 Very low starting current enables meter to record very low load consumption,
Single point calibration is provided 400% easy calibration.
Sealed counter is used to protect it from tampering.
Power indication S. tamper indication LED's are provided.
Meter operation indicator is provided.
Tamper proof for Earth loading S. reverse connection conditions and neutral missing.
Metallic and Push fit type of sealing in Polycarbonate (engineering plastic) Meter cover and base.
OTHER FEATURES OF STATIC (ELECTRONIC) KWH METERS
Meter work unaffected under phase and neutral interchange.
Tamper proof to external magnetic (AC/DC) field (conforms) to CBIR 88.
State of the art SMT technology.
Complies to IS:13779 standard.
Widest working Voltage range [-40 °h to + 25 °/b).
Very low burden even at 300 V input.
Accuracy Class 1.0
Sustained accuracy over wide working voltage and frequency range, [±5% of reference frequency)
LED tamper indication.
Reverse current measurement.
Earthed load tamper indication & Earth load measurement
440 VA. C. Protection for 5 minutes.
Sealed dust proof construction and ultrasonically welded.
Neutral missing indication.
Built-in transient protection.
Compact size.
Static Meter is based on ASIC technology.