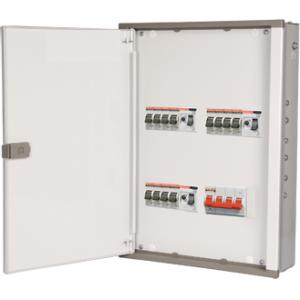 M.C.B. DISTRIBUTION BOARDS
BEKTEX-Linger Distribution Boards available in CRCA Steel sheet fabrication and plastic moulded with precision Distribution boards are easy to install and operate due to their compact design. The distribution boards are painted with high quality synthetic staving paint. The D.B.'s are fully fitted with DIN channel, neutral link S. bus bars, so as to fit MCB's in required numbers
TYPE SP&N / D.B.s B.S. 4, 8, 12,16, ways:
Available in 1.5 mm CRCA Steel sheet fabrication with neutral links and bus bar in 4, 8, 12 S. 16 ways suitable for 4, 8, 12 & 16 respectively nos. of SP MCB. Incoming S. Outgoing knockouts are provided at both top and rear of box for cable entry and exit.
(BLP - I or 2 & 3 or 4 ways]
Available both in Plastic moulded S. Steel Sheet enclosures without Bus bar and neutral Links. Knockouts are provided at the top and bottom portions in both type of boxes for cable entry and exit. The unit can be mounted by means of screws.
CONSUMER UNIT : Available in steel sheet fabricator with trans¬parent acrylic cover for MCBs protection. The unit consists at one DP isolator and has provision for fitting 4, 8 S. 12 Nos. of SP MCB and 4, 8 S. 12 ways respectively.